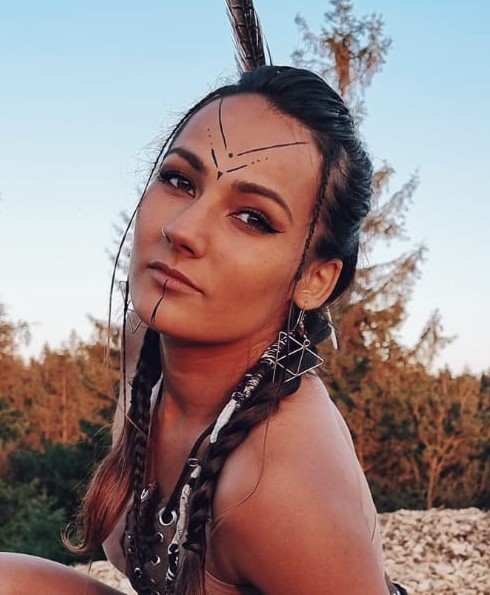 Michelle afholder flere forskellige workshops i løbet af sommeren og foråret, Kom og hør Michelle fortælle meget mere om dette på messen og spar 10% på events og workshops.

BREATHWORK
The duration of the workshop is approximately 3 hours. You will be lying down and use a continuous breath without any pauses to bring ourselves into a state of over-oxidation. This is expected to bring you into an altered state of consciousness which some may see as a strange or unusual experience. The experience can be very visual (images, colours, fractals etc.), physical (tensions, tingling sensations, cramps, uncontrolled movement, deep relaxation), or emotional with feelings of happiness, sorrow, anger, sensuality, contemplation etc. – You can not predict or control your experience. But you can allow the experience to flow though you by surrendering yourself to whatever process might open for you during the breath work.
I use a combination of carefully selected music played with high volume and acoustic drums/rattles to support the energy in the room. During the breath work I will support those who might need help processing their experience. We will land the session with a short sharing circle before ending the workshop.
Breath work can be used both for deep processing and for integration work.
COUPLE CEREMONY
Are you ready to explore yourself in your partner?
In our relationships, we have the opportunity to understand ourselves on a deeper level. We are all a mirror of each other and it gives us the opportunity to explore within ourselves, through each other.
Through various exercises, we create a deeper connection to our hearts. Let go of your expectation and let yourself be sureprised. What i can say is – I will make a safe space for you and your partner, for you to unfold the deepness of your relationship. My mission is to pave the way for our inner truth so that we can live freely in harmony with our relationships. We will be supported by the medicine of the Cacao from Mexico, which will help us connect to our inner core.
Through a mirror and your trust. I will help you and your partner a path to more freedom in our relations.
MIRROR YOU
Is created to discover our own being and from were we can bring back home the missing pieces.
We are all the same
but comes with different flavors.
That is what makes us unique.
In this workshop, MirrorYOU I will share tools for you to see yourself more clearly and be reflected in the eyes of TRUE beauty. I believe that in the mirrors of our surroundings and relationships, we are able to find and meet the depth of our being. Also we have the opportunity to overcome our deepest fears and bring light to our shadows.
https://www.facebook.com/michelle.b.lauridsen